Discover Class Hotel Apartments in Dubai
Discover Class Hotel Apartments in Dubai in 2023
Your Luxurious Home Away from Home in Barsha Heights
For an unforgettable stay in Dubai, Class Hotel Apartments is your ultimate choice. Nestled in the heart of Barsha Heights, our hotel apartments redefine the concept of a "home away from home.We invite you to experience the epitome of luxury.
Class Hotel Apartments in Dubai is dedicated to ensuring your stay is not just a trip but a memorable experience. Join us in Barsha Heights and let us make your Dubai visit truly extraordinary.
Dubai's Investment Elegance: Hotel Rooms as Your Gateway to Prosperity
Embark on a journey of sophistication and financial prosperity through hotel room investments in Dubai. This thriving metropolis invites discerning investors to capitalize on the flourishing hospitality sector. Elevate your portfolio with the promise of a 10% Net ROI for the first 5 years and secure, guaranteed returns of 8% for the subsequent 5 years. Experience the epitome of hassle-free investment with zero ongoing costs, ensuring a consistent monthly cash flow. Dive into the opulent world of Dubai's hotel industry, where your investment not only brings financial rewards but also a taste of the city's luxurious lifestyle. Discover the elegance and potential of hotel room investments, making Dubai your gateway to unparalleled investment success
Why Choose Class Hotel Apartments?
Spacious Comfort and Modern Amenities
When you choose Class Hotel Apartments, you're opting for a stay that combines the best of spacious comfort and modern conveniences. Our premium two-bedroom apartments and deluxe hotel apartments in Dubai Internet City are meticulously designed to make you feel at home.
Here's what you can expect:
Fully-Equipped Kitchens:

Our apartments come with kitchens that are as well-equipped as your own, allowing you to prepare meals just the way you like them.
Expansive Living Areas

: The living areas are designed for relaxation and entertainment, ensuring you have plenty of space to unwind.
Luxurious Furnishings:

Experience the lap of luxury with meticulously chosen furnishings that add an extra touch of elegance to your stay.
Hotel Apartments with Swimming Pool:

Take a refreshing dip in our swimming pool, the perfect way to unwind after a long day of exploring Dubai Internet City.
Long-Term Residences in Dubai Internet City:

For extended stays, our accommodations offer the utmost convenience, making Class Hotel Apartments your home away from home.
We understand that it's not just a place to stay; it's a place to live, relax, and make lasting memories. Choose us for the ultimate blend of space, comfort, and modern amenities.
Perfect Location in Barsha Heights
Nestled in the heart of Barsha Heights, Class Hotel Apartments offers an unbeatable location that combines the best of convenience and accessibility. Whether you're here for business or leisure, staying with us places you within arm's reach of major attractions, business districts, and transportation hubs in Dubai Internet City.
Proximity to Major Attractions:

From the vibrant nightlife of JBR to the breathtaking views at Palm Jumeirah, you're just a short drive away from the city's most famous landmarks.

Business Districts:

If you're here for work, the proximity to major business districts like Dubai Internet City and Media City makes your commute a breeze.

Transportation Hubs:

The Dubai Metro and excellent road connectivity mean you can explore the city effortlessly.
Exceptional Service and Hospitality
We take pride in offering exceptional service and unwavering hospitality to our guests. Our dedicated staff is available 24/7, ensuring your every need is met.
Attentive Staff:

Our team is always ready to assist you, providing a level of care that goes beyond your expectations.

24/7 Concierge:

Have questions, need assistance, or looking for recommendations? Our round-the-clock concierge is at your service.

Personalized Service:

We believe in making every guest feel special, with a personalized touch in all that we do.
For a stay that combines the perfect location in Barsha Heights with exceptional service and hospitality, choose Class Hotel Apartments. Experience the epitome of comfort and convenience during your visit to Dubai Internet City.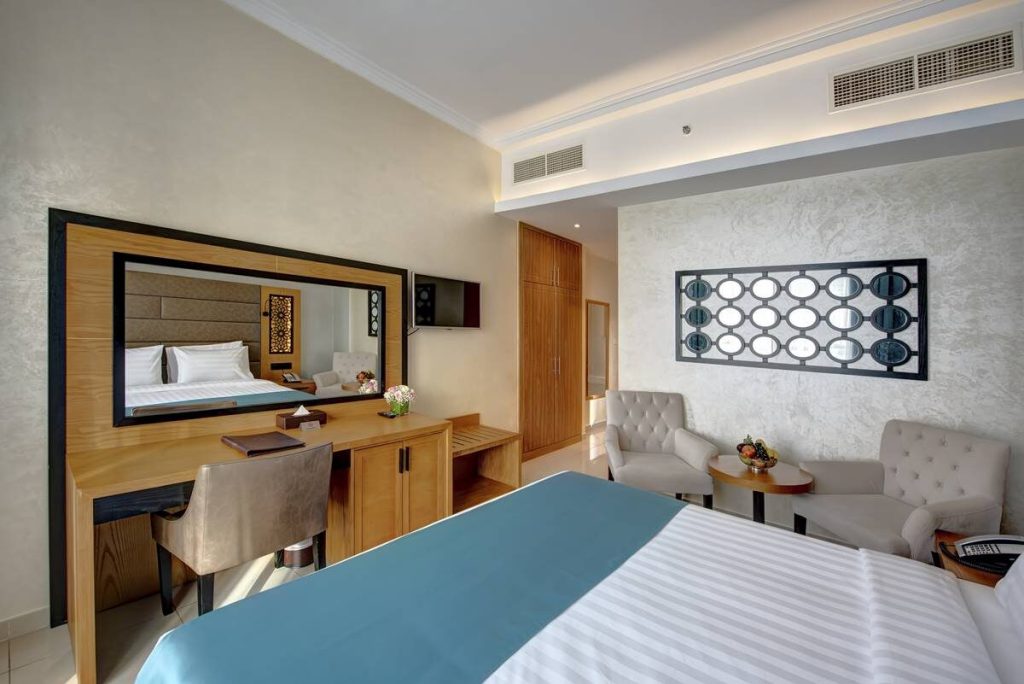 Our studio apartments are designed for the solo traveler or couples looking for an efficient yet comfortable living space. These units typically range from 300 to 400 square feet and feature a well-thought-out layout. The amenities provided in our studio apartments include:
Fully-Equipped Kitchenette:

Each studio comes with a compact kitchenette, complete with a microwave, refrigerator, and basic cooking utensils.

Cozy Living Area:

The living area is designed to maximize comfort and functionality, with a comfortable sofa, coffee table, and entertainment system.

Wi-Fi and Entertainment:

Stay connected with complimentary Wi-Fi, and unwind with a flat-screen TV and a selection of channels.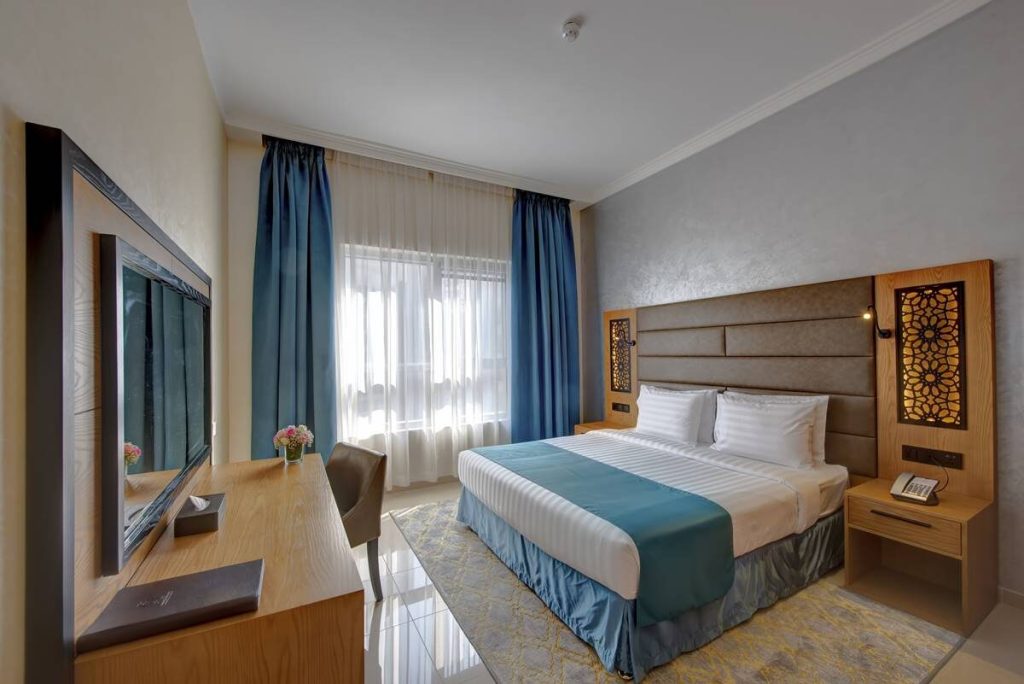 Our one-bedroom apartments offer a bit more space and privacy, making them suitable for small families or those who prefer separate living and sleeping areas. These units typically range from 500 to 600 square feet and feature:
Separate Bedroom: Enjoy the privacy of a separate bedroom with a comfortable queen-sized bed.
Living and Dining Area: The living area is spacious and includes a dining table for your convenience.
Fully-Equipped Kitchen: Cook your favorite meals in a fully-equipped kitchen with a stove, refrigerator, and all the necessary kitchenware.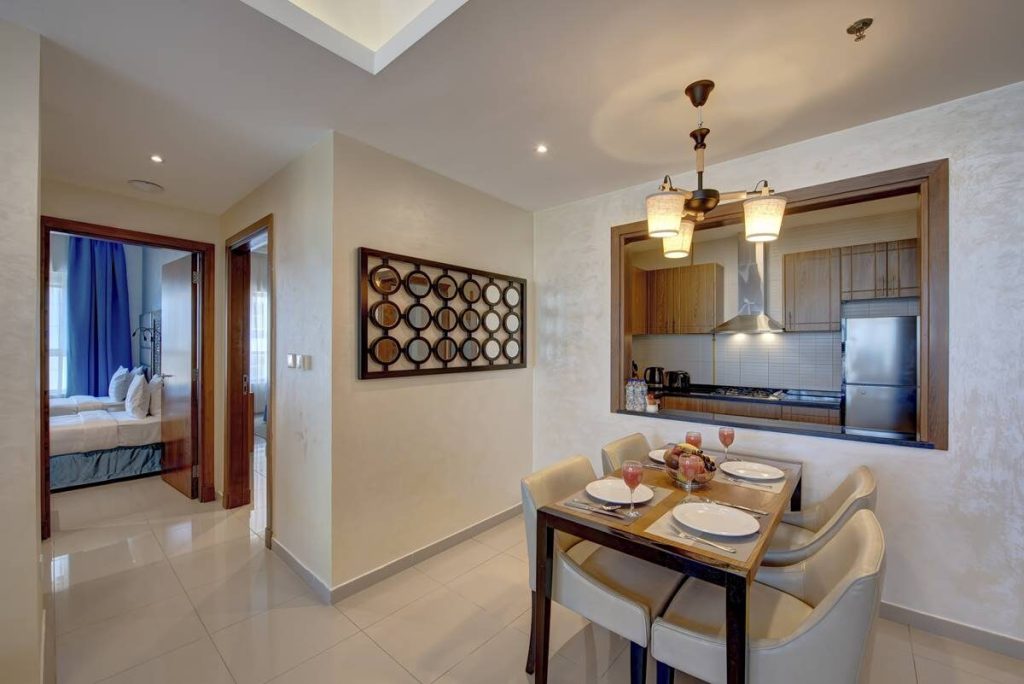 Our two-bedroom apartments are spacious and perfect for families or groups traveling together. These units typically range from 800 to 1,000 square feet and offer:
Two Separate Bedrooms:

These apartments feature two separate bedrooms, each with its own bed and ample storage space.

Spacious Living Area:

The living area is roomy, with a large sofa, coffee table, and entertainment system.

Access to the Swimming Pool:

Guests staying in our two-bedroom apartments have access to our on-site swimming pool for added relaxation.
Our penthouse suites are the epitome of luxury, designed for those seeking a lavish experience. These exclusive suites feature:
Breathtaking Views:

Enjoy stunning panoramic views of Dubai Internet City and its surroundings from the comfort of your suite.

Premium Services:

Experience top-notch service, including a 24/7 concierge, personalized assistance, and in-room dining.

Exclusive Amenities:

Indulge in extra amenities, such as a private jacuzzi, a spacious terrace, and a fully-stocked kitchen for a truly opulent stay.
Amenities and In-Room Features
All our hotel apartments, regardless of size or type, include the following amenities and in-room features:
Complimentary Wi-Fi:

Stay connected with high-speed Wi-Fi throughout your stay.

Entertainment Systems:

Enjoy a variety of channels and streaming options on the flat-screen TV.

Fully Equipped Kitchen Facilities:

Prepare meals at your convenience with a full kitchen, including a stove, refrigerator, and kitchenware.
We aim to cater to the diverse needs of our guests, offering a range of accommodations and amenities to ensure a comfortable and enjoyable stay in Dubai Internet City.
Exploring Barsha Heights, Dubai
Vibrant Neighborhood of Barsha Heights
Barsha Heights, also known as Tecom, is a vibrant and dynamic neighborhood in the heart of Dubai, and staying at Class Hotel Apartments puts you right in the midst of all the action. This energetic district offers an array of experiences, from diverse dining options to bustling nightlife and rich cultural attractions:
Dining Delights: Barsha Heights is a food lover's paradise. From local eateries serving delectable Middle Eastern cuisine to international restaurants offering global flavors, you'll find an array of dining options to satisfy your palate.
Nightlife: As the sun sets, Barsha Heights comes alive with its buzzing nightlife. Enjoy cocktails at trendy bars, dance the night away at nightclubs, or simply savor the warm evenings in one of the shisha lounges.
Cultural Attractions: Immerse yourself in the local culture by visiting the nearby cultural attractions, including art galleries, museums, and heritage sites. Discover the rich history and heritage of Dubai in this eclectic neighborhood.
Class Hotel Apartments in Barsha Heights offer not only comfortable and convenient accommodation but also the perfect gateway to explore the vivacious and lively neighborhood of Dubai. Whether you're looking for affordable family hotels, luxury 2-bedroom suites, or modern hotel apartments, our prime location allows you to experience the best of Dubai's culture and entertainment.
Close Proximity to Key Attractions
At Class Hotel Apartments, you'll find yourself within easy reach of some of Dubai's most iconic attractions. Just a short distance from our doorstep, you can explore:
Dubai Marina

: Experience the charm of Dubai Marina, a stunning canal city with a picturesque promenade, perfect for leisurely strolls and waterside dining.

JBR Beach

: Enjoy the sun and sand at JBR Beach, a vibrant stretch of shoreline lined with trendy cafes, water sports, and family-friendly activities.

Major Business Centers

: For business travelers, our location in Barsha Heights offers quick access to major business centers, including Dubai Internet City and Dubai Media City, making your work commute a breeze.
Dining and Entertainment Options
In Barsha Heights and the nearby areas, you're spoiled for choice when it comes to dining and entertainment:
Local Eateries:

Explore the rich tapestry of flavors in Dubai by visiting local eateries serving authentic Middle Eastern cuisine.

Global Cuisine:

Satisfy your cravings with international dining options, from Asian fusion to European fine dining, all within a short distance.

Nightlife:

Experience the buzzing nightlife of Dubai with a plethora of bars, nightclubs, and lounges offering exciting evenings for everyone.

Cultural Events:

Immerse yourself in cultural events, art exhibitions, and live performances happening in and around the area.
With a stay at Class Hotel Apartments, you'll not only enjoy the comforts of modern hotel apartments but also the convenience of a prime location near all these attractions, dining options, and entertainment venues. Whether you're searching for affordable family hotels, luxury 2-bedroom suites, or meeting room facilities, our location ensures you can make the most of your Dubai visit.
Hear from Our Satisfied Guests
Our commitment to providing an exceptional experience is echoed through the words of our satisfied guests. Here's what they have to say:
Our family trip to Dubai was made even more memorable by our stay at Class Hotel Apartments. The affordable family-friendly accommodations were perfect for us.
The luxury 2-bedroom suite exceeded our expectations. The spaciousness, modern amenities, and breathtaking views made our stay truly special.
Valentine Teresa
@username
As a business traveler, I found the meeting room facilities to be top-notch, providing a professional environment for my meetings and presentations.
Corporate Stays in Barsha Heights
Ideal for Business Travelers
Class Hotel Apartments is the perfect choice for corporate travelers seeking a seamless and productive stay in the heart of Dubai. Here's why we're the ideal option for your business trip:
Convenient Location:

Our prime location in Barsha Heights, close to major business districts, including Dubai Internet City and Dubai Media City, ensures a hassle-free commute to your meetings.

Meeting Room Hotel Near Dubai Internet City:

If you need a dedicated meeting space, our hotel provides state-of-the-art meeting facilities, making us an ideal meeting room hotel near Dubai Internet City.

Modern Hotel Apartments Dubai Internet City:

Our modern hotel apartments offer a comfortable and convenient base, allowing you to focus on your work without any distractions.

Dedicated Services:

Our dedicated staff is committed to making your corporate stay a success, from personalized service to 24/7 concierge assistance.
Meeting and Event Facilities
For your business meetings and events, Class Hotel Apartments offers the following facilities:
Meeting Rooms:

We have well-equipped meeting rooms that can accommodate various group sizes, from small teams to larger conferences.

State-of-the-Art Equipment:

All meeting rooms come equipped with the latest audio-visual equipment and high-speed Wi-Fi to ensure your presentations run smoothly.

Event Planning Assistance:

Our event planning team is ready to assist you with all your event needs, from catering to room setup, ensuring your business gatherings are a success.
Our commitment to offering a convenient location, top-notch meeting facilities, and dedicated services makes Class Hotel Apartments an excellent choice for corporate stays in Barsha Heights. We aim to provide the perfect setting for your business endeavors in Dubai.
Local Insights in Barsha Heights
Discovering the Nightlife Scene
When the sun sets in Barsha Heights, the neighborhood transforms into a vibrant hub of nightlife. Here's what you can discover:
Nearby Bars and Lounges: Barsha Heights offers a variety of bars and lounges, each with its own unique atmosphere. Enjoy craft cocktails, live music, and stunning views at some of the local favorites.
Nightclubs and Entertainment: Dance the night away at the neighborhood's nightclubs, or catch live performances and entertainment at various venues.
Shopping in the Neighborhood
Barsha Heights provides ample shopping opportunities for guests:
Malls: Nearby malls offer a mix of international and local brands, making it convenient for guests to indulge in retail therapy.
Boutiques and Souks: For a more unique shopping experience, explore the local boutiques and traditional souks to find one-of-a-kind items.
Transportation and Accessibility
Getting around Dubai is easy from Barsha Heights:
Dubai Metro: The Dubai Internet City Metro station is conveniently located, providing a quick and efficient way to explore the city.
Buses: The area is well-connected by bus routes, offering a budget-friendly transportation option.
Taxi Services: Taxis are readily available, allowing you to travel with convenience and comfort, whether for short distances or city-wide exploration.
With these local insights, you'll be well-equipped to explore the dynamic nightlife, shopping opportunities, and transportation options in and around Barsha Heights during your stay at Class Hotel Apartments.
Frequently Asked Questions
Contact Us for Hotel Apartments in Barsha Heights
For any inquiries, booking requests, or assistance, our team at Class Hotel Apartments is readily available to help you. Contact us through the following means:
Phone: You can reach us at +971 424 90 000  for immediate assistance or to speak with our friendly staff regarding your stay or any questions you may have.
Email: Send us an email at info@classhotels.ae with your inquiries, and our team will respond promptly to assist you.
Contact Form: Fill out our online contact form on our website to send us your questions or booking requests. We aim to make the process as convenient as possible for you.
Our team is here to ensure your stay at Class Hotel Apartments is comfortable and tailored to your needs. We look forward to hearing from you and assisting with your stay in Barsha Heights, whether you're looking for affordable family hotels, luxury 2-bedroom suites, meeting room facilities, or long-term residences.