Grab and go ( one coffee with one croissant ) 13 DHS
Looking for a quick breakfast option on-the-go? Look no further than Class Hotel Apartments, Barsha Heights! Our Grab and Go offer is the perfect option for anyone who wants a quick and delicious breakfast without taking up too much time.
For just AED 13, you can enjoy one coffee and one freshly baked croissant. Our croissants are made with high-quality ingredients and baked to perfection, ensuring a flaky and buttery texture that is sure to satisfy your cravings. And with our premium coffee made from the finest beans, you can enjoy a rich and flavorful cup of coffee that will help you start your day off right.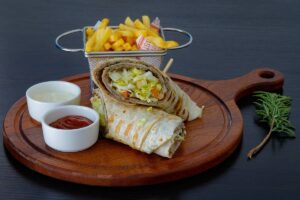 For just AED 23, you can enjoy a juicy Chicken or Beef burger served with crispy fries and your choice of a soft drink. Our burgers are made with the freshest ingredients and cooked to perfection, so you can enjoy a satisfying and delicious meal every time.
Read More about the offer »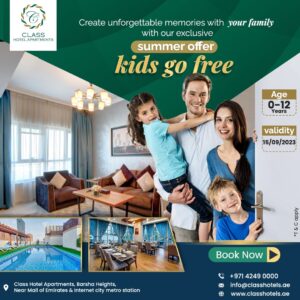 Looking for an exciting summer getaway that won't break the bank? Look no further than Class Hotel apartments in Barsha Heights! With our exclusive summer surprise offer, kids aged 0 to 12 years can stay and dine with their parents for free
Read More about the offer »
Hotel apartments are arguably one of the most comfortable forms of accommodation. Class Hotel Apartments provides a wide range of options for anyone looking
Read More about the offer »